A performative cinematic VR 360 film by Ella Raidel
The documentary VR work explores the relationship between space and body in Singapore's iconic modernist shopping malls in seven scenarios. The Seven-Step Verse is inspired by the Chinese poet Cao Zhi, who believed that a poem in seven verses shows wit, speed, and creativity. The performers occupy the malls, appropriating clothing and gestures and reciting texts as they pass by – thus pointing to the underlying ideological and social hierarchies.
Distributed by Lemonade Films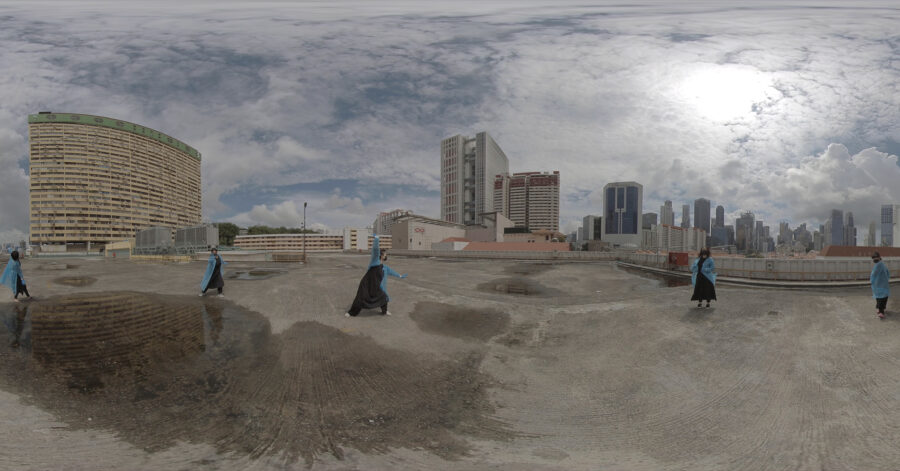 Cast/Performer
Nicole Phua, Veronyka Lau, Valerie Koon, Smiha Kapoor, Gladis Ng*
Crew
Director: Ella Raidel
Screenplay: Ella Raidel
Producer: Ella Raidel
VR Cinematographer and VR Technical Director: Benjamin Seide
Sound recording: Vanessa Yip, Chua Xin Yun, Yang Haolin
Sound design: Ross Adrian Williams
Editor: Benjamin Seide
Composer: Ross Adrian Williams
Production design: Ella Raidel
Color correction: Benjamin Seide
Title design: Benjamin Seide
FESTIVALS:
Next:
33rd SGIFF Singapore International Filmfestival
Seashorts Filmfestival 21.-25. September 2022
Multimedia University Cyberjaya, Kuala Lumpur
12 VR works from across Southeast Asia, South Korea, and Taiwan will be available at SeaShorts Film Festival 2022 as part of our Beyond Mirage exhibition!