Play Life Series at Transmediale Berlin_ afterglow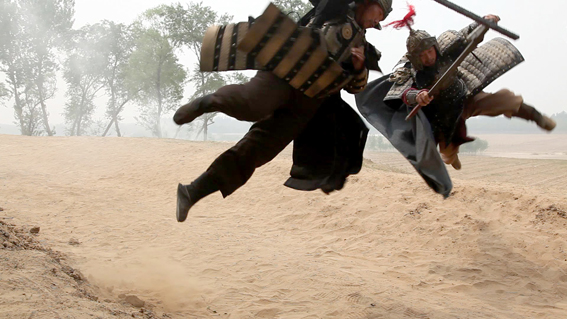 Digital Plays, Haus der Kulturen der Welt, Theatersaal, 1.2. 2014, 18:00-20:00
http://www.transmediale.de/content/digital-plays
Ella Raidel's video Play Life Series exposes its own methods right from the start. We see film shoots and film sites where Chinese soap operas are produced. As the camera pans to film teams and cameramen, the fictional content of the rehearsed scenes is interrupted and revealed as the process of making-of. At the same time, through editing, Raidel replays particular movements, handholds, and gestures of the characters, thus intensifying their serial level. The repetitions make clear the extent to which sword fights, wine, love, and revolt are part of a medially represented repertoire of gestures.
Ella Raidel's work deals ironically with the Chinese soap opera as fake-factory of collective desires, which in the interplay of fiction and making-of, forces its way through reality, scrutinizing it—as site of image making and image controlling.
///////////////////////////////////////////////////////////////////////////////
In preparation
DOUBLE HAPPINESS
Documentary Film, 80 min.
DOUBLE HAPPINESS takes the copy of Hallstatt, a small idyllic town from Austria, in China as a starting point to explore China's fast urbanization. Chinese cities are built on the non-site where histories and memories can be easily forgotten and thus rewritten. The film is at the traffic of the real and the fake created through visual imagery and commentary, interviews and songs. [Cinematography/Photo: Martin Putz]