For more information about Double Happiness visit also: www.doublehappiness.at
——–> join Double Happiness on facebook
Double Happiness – Trailer
Double Happiness received the Jury Prize at Urban Nomad Film Fest Taipei 2015
Best International Feature Film Award at Arquitectura Filmfestival Lisbon 2015
Upcoming Screenings in China:
Hong Kong: 19th January 2016, Hong Kong Polytechnical University, Screening & Dialogue with Ella Raidel and Dr. Pan Lu, Assistant Professor, Department of Chinese Culture
Guangzhou: Double Happiness will be presented at 1st Asian Biennial, Guangdong Museum of Art, China, 11.12.2015-10.04.2016
In review:
Margaret Mead Film Festival New York 2015 expands the boundaries of documentary and visual anthropology:
"Stylistically, Double Happiness is constructed as an impressionistic collage, incorporating traditional talking-head interviews with stunningly shot imagery of both Hallstatts as well as other areas of China, and musical interludes that seem to wryly imitate karaoke videos. Raidel has created, a thoughtful, diverting work as playful as it is provocative."
Read more: http://twitchfilm.com/2015/10/margaret-mead-film-festival-2015-expands-the-boundaries-of-documentary-and-visual-anthropology-gallery.html#ixzz3q1YK9w35
Chicago International Filmfestival focus on director:
Double Happiness : "A wild, almost surreal doc"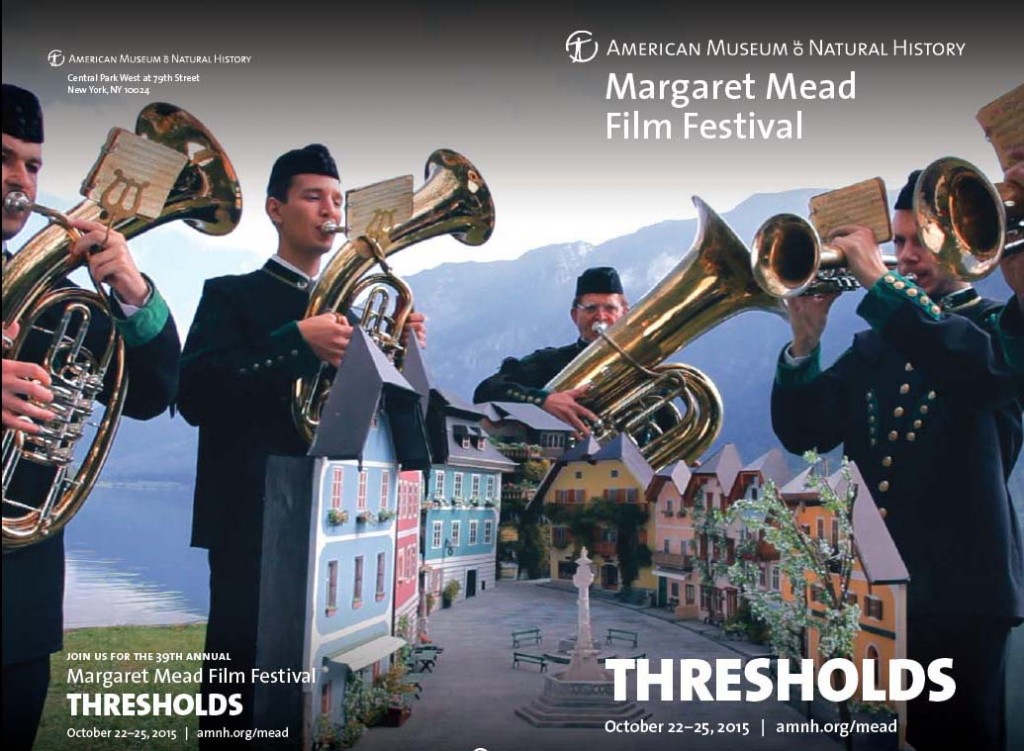 DOUBLE HAPPINESS, 74 min., DCP, 2014                             English Version
Double Happiness is distributed by Sixpackfilm Vienna
Unter Double Happiness versteht man im chinesischen Raum jenes Glück, das sich automatisch verdoppelt, wenn zwei Menschen beschließen, für immer miteinander zu leben. Ella Raidel hat dieses schöne, optimistische Bild als Titel für ihren ersten langen Dokumentarfilm gewählt. Doch vielleicht sollte man gar nicht von einem Dokumentarfilm sprechen, schon gar nicht von der handelsüblichen Globalisierungs-Doku, denn es handelt sich vielmehr um einen sehr klugen, pointierten und vor allem mit viel Einfühlungsvermögen und Gespür gestalteten filmischen Essay. Ausgehend von der viel publizierten, aber eher banalen Tatsache, dass "die Chinesen" in der Nähe der Freien Wirtschaftszone Shenzhen die oberösterreichische Touristenattraktion Hallstatt, oder zumindest Teile davon, quasi maßstabgetreu nachgebaut haben, wirft Raidel einen sehr präzisen Blick auf das heutige China, völlig unbeeindruckt von den beiden Gegenpolen des aktuellen westlichen China-Bildes, das zwischen atemloser Bewunderung für das "Wirtschaftswunderland" und platter Kritik an den "politischen Verhältnissen" wenig Spielraum lässt. Dank eigener kluger Beobachtungen und mit Hilfe hervorragend ausgewählter GesprächspartnerInnen, vornehmlich aus den Bereichen Architektur und Stadtplanung, entsteht das Panorama eines Landes an einem heiklen Punkt seiner politischen, sozialen und wirtschaftlichen Entwicklung. Wie jeder gute Film wirft auch dieser mehr wichtige Fragen auf, als er beantwortet – wie die nach dem Verhältnis von Tradition, Moderne und Zukunft, zwischen realen Gegebenheiten und spätkapitalistischen Träumen, zwischen notwendigem Fortschritt und der Bewahrung einer intakten Umwelt. Double Happiness würde wohl auch darin bestehen, diese zum Teil recht heftig klaffenden Gegensätze miteinander zu "vermählen". (Andreas Ungerböck)
—
DOUBLE HAPPINESS  is a filmic journey to China, where a clone of the Upper Austrian town of Hallstatt has been realized as a real estate project. The film tells of the copy planned in secret and of its discovery, of the motivation and the background for the construction of the fairy-tale-like replica in a region with a population of millions as a consequence of globalization. In Chinese, DOUBLE HAPPINESS stands for marrying and the associated happiness for both sides. The duplicated happiness unfolds in parallel worlds of original and copy, real life and fiction, dream and reality.
——–
"This surreal, exquisitely framed documentary looks at the construction of a near-exact replica of a scenic Austrian town—cobblestone by cobblestone—in an undeveloped Chinese tract of land. In a style both entrancing and playful, the film questions the difference between real and imagined, model and reality, raising thought-provoking questions about the nature of authenticity and happiness. Features insightful interviews with urban planners, designers, and trailblazing Beijing architect Ma Yansong." Anthony Kaufman/Chicago International Filmfestival
"Near Huizhou, China, stands a replica of the idyllic mountain village of Hallstatt, Austria—a staging ground for provocative questions about tradition and innovation, copying and creativity, and contemporary China's gaze toward the West. As Western countries increasingly imported cheap Chinese commodities, the economic giant began to construct an idealized European past into a vast simulacrum of luxury playgrounds for the rich. In the last two decades, China has observed an explosion in theme parks meant to both miniaturize the landscape of China and represent the entirety of the world. But these pronounced locations are just a symptom of a much larger transformation of territory. A television journalist ponders, "perhaps in ten years we won't be eligible to call ourselves Chinese anymore," as the landscape increasingly takes on the character of Western nations. Ella Raidel's refreshingly thoughtful and sumptuously photographed essay film offers an unusual mirror to the West through the lens of contemporary China." Eli Horwatt/Hot Docs Toronto 2015

"Ella Raidel overlaps what was carved by time over what money quickly erected, con-fusing both cities in a virtuous way, and tempting the limits in which the idyllic turns into a nightmare, and reality becomes pure simulation." BAFICI 2015
You never quite known if what you are seeing is 'real' in its disorienting, but extremely precise arrangement of location footage and miniature models, as well as of TV shows and interviews with Chinese architects and urban planners. But is authenticity a part of a present, where the world's new economic superpower is in the process of redefining itself and its history? From a strange place between an imported idea of a romantic past that never way, and an uncertain future in the name of unbridled capitalism, Chinese engineers are in the process of creating a bubble of security, where everything is completely under control – and where only the richest of the rich can afford to live. CPH:DOX* 2014
Wo sind wir, wenn eine hübsche Chinesin im Dirndl den Mond ansingt: "Meine Zuneigung ist echt"? Offenbar in einem feuchten kapitalistischen Traum. Denn Hallstatt/China ist ein luxuriöses Investmentprojekt und nur ein Nebenprodukt des gigantischen Baubooms. Wo bleiben "wir" und unsere Kultur dabei, fragen chinesische Architekten und Stadtplaner. Der Film entdeckt ein an sich zweifelndes China und verweist zugleich mit seiner clever verschachtelten Erzählstruktur ironisch auf "uns" Europäer zurück. Auch die Identitätskrise verdoppelt sich.
Lars Meyer/Dok Leipzig 2014
In Raidels Doku verschwimmen die Grenzen – zwischen Schönheit und Kitsch, der Realität und einer am Reißbrett konzipierten Welt, zwischen einer zerstörten Umwelt und der glattpolierten Oberfläche. Ein zauberhafter Film, voll anmutiger, doppeldeutiger Bilder, der trotz seiner künstlichen Schönheit genauso wie das Original-Hallstatt etwas sehr Mystisches hat. APA
"Filmemacherin Ella Raidel aus Gmunden eröffnet das heute startende "Crossing Europe Filmfest" in Linz mit einem Werk, das auf respektvolle Weise der Verbindung und dem Austausch zwischen dem Original im Salzkammergut und der asiatischen Kopie nachspürt…Raidel macht es einem damit herrlich einfach, über die Ernsthaftigkeit zu schmunzeln, mit der man Traditionen und Heimat auf einen Sockel stellt." Oberösterreichische Nachrichten